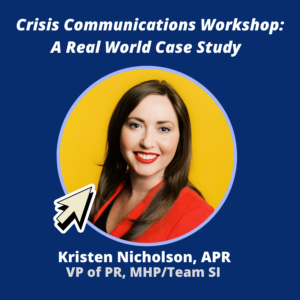 Join NWA PRSA for a Crisis Communications Workshop: A Real World Case Study with MHP/Team SI, on Thursday, June 22 at 11:30 a.m. for an educational presentation and the opportunity to learn from fellow professionals.
The presentation, led by Kristen Nicholson, APR, VP of PR at MHP/Team SI, will explore a case study from a tragic tornado that hit a nursing home in Monette, Arkansas, and made national news. The event is free, with food and drink provided by MHP/Team SI.
Register for the free event or learn more at the Eventbrite page.