Board Members – 2018
President – Christy Attlesey
Christy Attlesey is a veteran communications professional with more than 18 years of experience in writing, internal communications and public relations management in the corporate and nonprofit sectors. She currently works for Tyson Foods on its Internal Communications team. Prior roles include, eight years as communications manager of the Bella Vista Village Property Owners Association and six years as a reporter.
President-elect – Open
Secretary – Rachel Tucker
Rachel Tucker is a communications professional with experience in public relations, social media management, copywriting, and marketing. She is currently the Social Media Specialist for Crystal Bridges Museum of American Art. She received her Bachelor of Arts in English from the University of Arkansas and previously worked as Director of Public Relations for Do College Better, a student enrichment start-up company in Fayetteville.
Treasurer – Peter Main, APR
Peter H. Main, APR, is Principal Communications Consultant for Southwestern Electric Power Company (SWEPCO). Based in Fayetteville, his responsibilities include internal and external communications for SWEPCO's generation, transmission and distribution operations in Arkansas, Louisiana and Texas.
Director at Large – Jake Lane (expires 2020)
Jake is a passionate PR professional who resides in Northwest Arkansas with his wife, Haley, and two kids, Luke and Lily Grace. Jake works as the Marketing and Communications Manager at The Jones Center in Springdale where he gets to utilize his passions for public relations, sports and recreation, family, and diversity. Jake graduated in 2012 from the University of Arkansas with a Bachelor's Degree in Advertising/Public Relations and a minor in Spanish.
Director at Large – Kevin Trainor (expires 2019)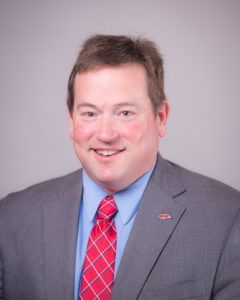 Kevin Trainor is a strategic communications professional with more than 23 years experience in public relations, media relations and brand management for Division I-A athletic program. He is the Associate Athletic Director for Public Relations for the Arkansas Razorbacks. Trainor is an accomplished public speaker, writer, editor and administrator and is the press conference moderator for SEC Football Media Days and the SEC Football Championship Game. In addition, Trainor has served on the staffs for numerous professional and collegiate events including the College Football Playoff National Championship Game, the Goodyear Cotton Bowl and The Masters.
Director at Large – Cassi Lapp (expires 2018)
Cassi Lapp is the Communications Manager for the City of Bella Vista, where she handles citywide media and public relations, including serving as PIO for the police and fire departments, plus social media and marketing. She is also an adjunct English instructor at NorthWest Arkansas Community College. She started her career in communications as a reporter for Northwest Arkansas Newspapers. She has a BA in English from the University of Arkansas and an MFA in writing from Bennington College in Vermont. In her spare time, she is an avid runner and cyclist.
Assembly Delegate – Open
Immediate Past President – Christy Atlesey
Committees
Accreditation – Robin Mizell, APR, or Leigh Stidham, APR
APEX Awards – Cydnee Snodgrass, APR
Arkansas and SW District Liaison – Christy Attlesey
Communications (Web/E-Marketing/Social Media) – Rachel Tucker, Christy Attlesey and Jennifer Thompson
Membership – Jake Lane and Kevin Trainor
Programs/Hospitality – Hazel Hernandez
PRSSA Liaison – Kim Cooper
Sponsorship – open
Past Chapter Presidents
2017 – Christy Attlesey
2016 – Debbie Miller
2015 – Beth Bobbitt
2014 – Beth Bobbitt
2013 – Cydnee (Cochran) Snodgrass
2012 – Brooke Benoit
2011 – Christi Gallagher
2010 – Leigh Stidham 
2009 – Jami Lamontagne
2008 – Mark Myers/Jami Lamontagne
2007 – David Edmark
2006 – Dixie Kline
2005 – Michael Clark 
2004 – Terri Trotter
2003 – Ed Nicholson
2002 – Elise Mitchell