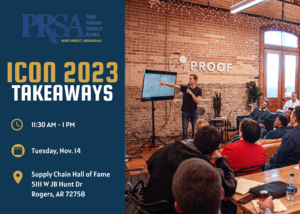 WHAT: Learn from NWA PRSA members who attended ICON 2023, a PRSA event that brings public relations/communications students and professionals worldwide together for professional development and networking. Members will recap their experiences and takeaways to prepare for a dynamic 2024 and beyond!
WHEN: Tuesday, November 14 | 11:30 a.m. – 1 p.m.
WHERE: Supply Chain Hall of Fame

5111 W JB Hunt Dr. | Rogers, AR 72758

WHO: NWA PRSA members and communications professionals
HOW: Please register through the .